UPDATED 12/29/20
Divorce after marriage can be an extremely painful process. It involves severing what was supposed to be a lifelong union and changing the entire trajectory of your life. If you get a divorce by court, you'll need to get a divorce attorney and spend a lot of money. The entire process is stressful and sometimes embarrassing. So it is important to take care of yourself. When you are getting a divorce, you need to pay attention to your life outside of the divorce as well. You need to keep your finances in order and make sure you're legally prepared for anything that might come up. You also need to protect your mental, physical, and spiritual health. The stress can have an impact, so you need to prepare for it.
The divorce details are often complicated, so be sure to get the help you need in order to understand exactly what is going on. Find an honest, reliable lawyer who works to get the best results for you from your divorce claim. If you take care of yourself and your needs, you'll find that the process gets easier.
Are you in the process of getting rid of your wedding ring as a result of a divorce? If so, you are not alone. There are millions of other people who are experiencing the pain, the upheaval, the disruption, and the healing journey that is required in order to alleviate the scars of a past marriage. Yes, it is true that divorce is the end of something that was once a reality. But, it also is the beginning of a brand new chapter. Surviving your divorce is a process that will involve many different steps. During this highly emotional time, you may be wondering how do you survive a divorce? This is especially true if you are dealing with a divorce after a long marriage. Here are some tips on how to restart life after divorce, one day at a time.
Connect With a Divorce Lawyer
If ending your marriage is the new reality in your life, one of the most important steps in surviving your divorce is making sure that you have an attorney. The first thing to do when you are getting divorced is to contact your attorney. If your attorney cannot represent you, then you need to find a divorce lawyer who will take you through the process. But this is not always as easy as it sounds. When you choose a divorce lawyer, it is essential to have a rapport and a connection with them; it's important to find someone who understands your situation. Yes, you definitely will want someone who will be able to sympathize with your point of view and represent you well in your divorce proceedings. You also want an attorney who has a good reputation, so be sure to ask around and find out as much as you can by word-of-mouth. Be sure to find a few options, since divorce attorneys are extremely busy; annually the number of divorces totals about 827,000. Also, be sure and clarify all terms of payment and charges up front and in writing. The last thing that you need in this situation are surprises such as expenses that were not made clear in the first place. Surprises like that do not make surviving your divorce any easier. So be sure to eliminate all unknowns before you take any further action. Really, the best way to get through a divorce is to have a competent lawyer in your corner.
Keep a Careful Eye on Your Finances
It's a well-documented fact that most marriages have only a 50/50 chance of surviving. With that in mind, it is realistic to think that a divorce could possibly be in your future. It would be good, if possible, to set aside a certain amount of money every month or so for an emergency fund just in case a divorce did occur and you find yourself in that situation. You have to ask yourself, how do you survive a divorce if you are starting again with nothing? The reality is that a divorce attorney can be extremely expensive. And having to declare bankruptcy during a divorce is debilitating. One good step in surviving divorce is to make sure that your finances are in order while you are going through divorce proceedings. The financial aspect of surviving divorce can be quite challenging. Depending on the circumstances, it can be even devastating. If you are struggling with finances during or after your divorce, make sure you find debt relief services.
Stay Organized and Keep Accurate Records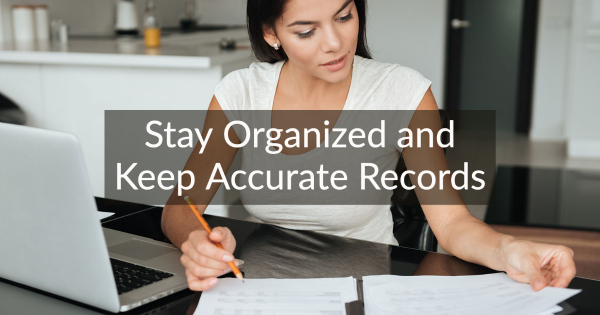 Making sure that you stay organized is a key step for surviving your divorce. There will be a lot of details to keep track of—new contacts, phone numbers, appointments, and more. Be vigilant in writing everything down, and make sure you get the name of everybody that you speak to; you may have to call them back again. If you are able to speak with someone you have dealt with previously, this will save you time and energy, because you will not have to repeat the whole story from the very beginning every single time you need to talk to someone on the phone. If school-aged children are involved in the divorce, this type of organization is particularly pertinent. Keeping track of their school records, appointments with teachers, progress reports, interactions with the school nurse, physical education updates, permission slips, and doctor's visits, and more—all of these items must be kept and documented. You may be called on to produce them at any time, so it is imperative to be able to have the paperwork involved in any of your children's activities. Also, be sure to try and keep everything together in one place, such as a desk drawer or even a plastic storage tub. Separate, large envelopes will be very helpful in keeping everything organized; for instance, one envelope could be used for finances and receipts, one for appointments, one for insurance policies, one for attorneys, etc. Even birth certificates, passports, bank records, and safety deposit box keys could all be in one centralized place. This way, the information will be easy to find quickly whenever it is needed.
Consider Mediation
Family mediation is an alternative to a traditional divorce. And if you want to make sure that your divorce is as stress-free and conflict-free as possible, mediation might be an excellent path for you to pursue. One of the primary and most obvious advantages of using a family mediation service instead of a divorce lawyer is that a family mediation service is much less expensive than a divorce attorney. It is also a consensual process; both parties express a willingness to negotiate until an agreement is reached on all topics. Family mediation is especially effective in a divorce which includes terms of childcare and child custody.
Listen to Your Instincts
In this time of upheaval, when there are seemingly endless demands on your time, energy, and resources, make sure you listen to your inner voice. Your inner voice, and your instincts, especially about finances, may be the true keys to surviving your divorce. If something doesn't sound right or feel right, then listen to that and make sure that whatever the situation is you stick to it until it does feel right and it does get resolved. Trying to rush a process through just so you can have a resolution and the divorce can be finalized will not benefit you, if the ultimate outcome is not one that is in your best interest. If you are trying to figure out how to get through an unwanted divorce, in particular, you may rush through these early steps just because it's so hard on you. However, you need to defend your interests. Compartmentalize the hurt and make sure the separation agreement works for you. When you are stressed out over how to survive a divorce financially, you'll look back at this time. Did you just agree to everything or did you stand up for yourself?
Have a Plan Regarding Pet Custody
It is true that pets are members of the family. This is a very emotional topic. So, be sure to protect your beloved pets. You will have to have a discussion concerning how to make sure this happens. When you're determining who will maintain guardianship of your pet or pets, it's important to have a plan that is comprehensive and well-thought-out. This includes vacation time and special occasions. Care, finances, and visits will all have to be negotiated. In addition, a wise move to consider may be to ask your lawyer to include the topic of animal health services in your settlement to ensure that your pet is healthy and well- cared for. It would also help avoid stressful conflicts over health services for your pet or pets in the event of an emergency, or accident.
Treat Yourself to Something Special
Make sure you remember to pamper yourself! Surviving your divorce will involve a new paradigm in terms of the way you view yourself and treat yourself. Yes, you may be stressed out. Yes, you may be concerned about finances. Yes, you may be worried about the children and the pets and the effect the divorce will have on them. But, it is imperative to remember that surviving your divorce begins with you, and the way you react to everything that is going on. Keeping your perspective is really important. And one way to do that is to treat yourself to something special. Something you, and you alone can do for yourself and totally enjoy. How do you surive a divorce if you don't treat yourself to the little things that can make a day special? It does not have to be fancy, expensive, or time-consuming, either. It could be something as simple as stopping for an ice cream cone or taking 15 minutes to sit on a bench in the park and enjoy the sunshine and fresh air. Maybe a quick, inexpensive polish change at the salon would be a great treat! Whatever it is, find something that you know you really would like to do and then make the time to do it for yourself because you deserve it! Reminding yourself that you are special by doing something special for yourself is a great step forward in surviving your divorce.
Eliminate Emotional Clutter
At one time or another, haven't we all had the experience of letting a stack of magazines pile up in the den? After a while, we become so used to seeing them there, that they become part of the decor. But they are not part of the decor! It is just a habit to see them, and we grow so accustomed to seeing them that we don't even process that they are actually there. But there they are, taking up space and collecting dust. Well, that could also happen emotionally, too. Are there habits or rituals that you shared with your partner? Places that you went, or a certain memory that keeps coming back into your head? If so, it is time to try and let it all go. One of the best tips for surviving divorce is to create new habits and traditions. Just as we know when it's time to straighten up the den and remove items that are no longer serving any purpose, it's also very important to pay attention to clearing out emotional clutter. This is particularly important in surviving your divorce. We have all heard the phrase about letting people "live rent-free in your brain". Moving on from a marriage that is over involves eliminating emotional clutter because that type of emotional thinking could actually be holding us back from embracing new experiences and creating new beginnings for ourselves. One of the better tips on how to restart life after divorce is simply to make the conscious decision to move on with your life.
Keep Up With Your Hobbies
A great tip for surviving your divorce is to make sure that you take the time to enjoy yourself and engage in activities that give you a sense of satisfaction. True, you are in the middle of a difficult situation. But just try to remember that the situation is temporary. And having a routine and staying in touch with hobbies and friends that you have always enjoyed will reinforce a feeling of normalcy. Keeping up with your favorite hobbies and interests will also reinforce your personal sense of identity. The enjoyment that you derive from certain activities will let you know that things will someday be on track for you again and that you are still you! The chaos, stress, and disruption of the divorce process is not permanent, and you as an individual are very much involved in what's going on in the world! So, don't let your fishing boat sit and gather dust while the weather is still nice. Do the things you love to do, even if the waters are choppy for now.
Volunteer
Volunteering really does make a difference. Opportunities abound to participate in something that will help you keep your perspective and also help shift your focus away from thinking about all you are doing while you are surviving your divorce. As a volunteer, you will be committed to a particular cause, and you will be working with a team of others who are also dedicated to that same objective. It doesn't have to be a time-consuming process, either. As a volunteer, you name your own hours and you participate when it is convenient for you. This could even be one hour per month. But the main point is that you will be on a team of like-minded individuals working for a common purpose that is much larger than yourselves.
Look Forward to the Future
Stop waiting to enroll in that summer arts program you've been eyeing. This is a chance to have a fresh start, learn a new skill, and meet new people. You deserve to smile again. Coping with divorce when you don't want it is one of the more traumatic experiences someone can go through. Accepting divorce and moving is can only happen if there is a new life to look forward to. One way to look forward to the future is to take steps that will lead you there! Is there something that you have always wanted to try, but never have been able to fit into your schedule? Maybe just getting involved in one new interest will open many new doors for you. So, join that Garden Club and just see all the new opportunities that may spring up!
As we start to get back to normal after the extended quarantine period we have faced, experts are expecting a surge in divorce inquiries. Marriages that were not on solid ground before everything shut down, are now in serious danger. At this point in time, many people may not be as concerned about surviving the divorce as they are surviving the marriage.
Tensions have built up by simply being in such close quarters for so long.andnbsp; The removal of routines that allowed couples to have the everyday separation they needed to navigate the troubles in their relationship has been removed.andnbsp; Add on top of that the natural stress and anxiety that comes with an unprecedented health crisis and the economic concerns that follow.andnbsp; It was already well known that money was one of the main causes of argument in a household. Now seeing thatandnbsp; up to 2 in 5 adults are facing an economic downturn, or loss of job, those stresses have become unbearable.
Seeing so much suffering in the world right now may make you think that surviving your divorce on top of it might be too much
Surviving your divorce is not just a possibility—surviving your divorce is a reality! And you will be able to move beyond your divorce into a new life filled with happiness, hope, new dreams, and new expectations. Yes, you will be able to smile again! Keeping these tips in mind will help you on the path to that new life. Staying organized, keeping on track, and most of all, listening to your inner voice are all ways that will help you thrive and enjoy life after surviving your divorce.
More Topics:
divorce survival guide, freedom after divorce, how to end a marriage wikihow, how to get through a nasty divorce, how to get your parents to divorce wikihow, how to handle divorce at work, how will i survive divorce, work divorce, how do you survive a divorce, how will i ever survive, survival tips for the newly divorced man, tips for surviving divorce, canadian family law guide, freedom from divorce, help for women going through divorce, how can i survive a divorce, my divorce from hell, wikihow divorce, women surviving divorce, how to accept divorce, accepting divorce.